The links to the courses below are provided to you from WHRO during the COVID-19 pandemic. WHRO is not a credit-granting organization and does not provide instruction. Access to this content will be available until the HRETA school divisions return to normal operations. For assistance using the courses provided here, access the Technical Information Document or view the videos linked below. For questions, please write to: [email protected].

Additional Learning Resource – eMediaVA℠, is free to all Virginia public, private and home schooled educators, students and parents.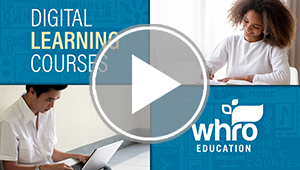 On March 24, 2020, WHRO hosted a webinar outlining its digital learning resources, including online courses and eMediaVA. Click the player button to access a recording of this webinar (40:12) for more information.
An ADA compliant transcript is available for this webinar.